What's the difference between organic and natural? Isn't "All Natural" just as safe and healthy as Organic? Unfortunately, "All Natural" is not the same thing as "Organic" and comes with no guarantees. "Natural foods" are often assumed to be foods that are minimally processed and do not contain any hormones, antibiotics, or artificial flavors. In the US, however, neither the FDA nor the USDA have not engaged in rulemaking to establish a formal definition for the term "natural". Therefore, food manufacturers often place an "All-Natural" label on goods containing heavily processed ingredients.
Let's talk "Organic": When a product is labeled "Organic" or "Certified Organic", there are legal regulations that must be followed in order to place that label on the packaging. Only organic guarantees no toxic synthetic pesticides or herbicides, or chemical fertilizers that are used in production; and no antibiotics or growth hormones are given to animals. Organic producers and processors are also are subject to rigorous announced – and unannounced – accreditation inspections by third-party inspectors to ensure that they are truly producing and processing organic products
What does "USDA Organic" mean on a supplement or food Label?
When you see the USDA organic label on a bundle of bananas, for example, you can trust that the fruit was grown on organically-certified land that promotes biodiversity as to not waste natural resources. USDA Organic products are also considered Non-GMO (Non Genetically Modified).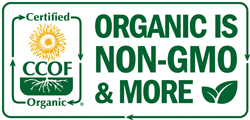 Products that have a 100% organic label only contain 100% organically produced ingredients, excipients and/or processing agents. To obtain a "Certified Organic" label approval, products must be comprised of at least 95% organically grown/produced ingredients, with an exception to salt and water.
Certain products that possess at least 70% organic certified content may be certified as "made with organic ingredients" but are not allowed to bear the USDA Organic seal. These products may list certain approved conventional ingredients alongside the organic ones.
So, there is a difference!
So, as we see, there is certainly a difference between "Organic" and "Natural". However, this does not necessarily mean that products labeled "Natural" are not good products. It simply means that products bearing the USDA Organic seal or displaying "Made with Organic" certification, have undergone processes that rely on natural substances and physical, mechanical, or biologically based farming methods to the fullest extent possible.
Health Genesis Corporation has a full line of USDA Organic Supplements certified by EcoCert ICO and CCOF that are available for private label. We also offer certified organic raw ingredients and manufacture private label organic supplements according to the highest standards of quality and to our clients' exact specifications.